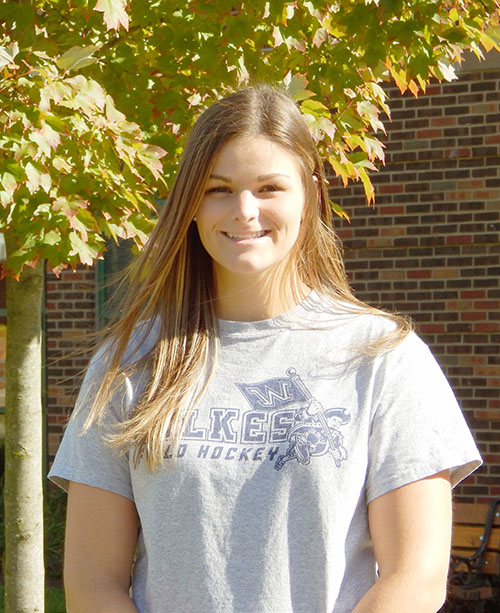 Nicole Gaetani
What Head Coach Sara Myers said: "Haley is an outstanding athlete, as our center back she is our solid transition to attack and she is the key to our defensive unit.  Everything we do on the field starts with Haley, her skill set and leadership make her a standout  and  I am so happy to have her on my team."
Name: Haley Gayoski
Year: Junior 
Major: Elementary and Early Childhood Education
Minor: Reading
Hometown: Forty Fort, Pa.
High School: Wyoming Valley West HS
Position: Defense
Driving force for your decision to come to Wilkes?
I wanted to come to Wilkes because of the small campus atmosphere and the wide variety of majors it offered. Also, it gave me the opportunity to be close to home and play field hockey.
Post graduation plans in terms of a career?
Get a teaching job and become a field hockey coach.
Favorite buildings on campus?
Breiseth and the Library. All of my classes are in Breiseth and I like to meet up with friends to do homework at the library.
Favorite professor?
I can't pick just one. All of the professors in the education department are extremely nice and helpful.
Hopes for this season as a Colonel?
Win a MAC championship. As a team, we have overcome a lot of obstacles this season and I think that our hard work and dedication makes this a reachable goal.
When/Why did you first begin playing?
I began playing field hockey in 5th grade at a summer camp hosted by Wyoming Valley West. I fell in love with the sport and have been playing ever since.
Most influential person in your life?
Both of my parents. They are both extremely supportive and do everything possible for me.
A quote you live your life by?
"Be who you are and say what you feel, because those who mind don't matter, and those who matter, don't mind." –Dr. Seuss
What came first? The chicken or the egg?
The chicken.
Coke or Pepsi?
Coke
Favorite meal to eat on campus?
A Chicken Caesar wrap from the POD
Anyone to give a shout-out to?
The whole field hockey team and coaching staff. I have made some of my best friends on this team and I will forever be grateful for all of the opportunities and people this sport has led me to.