AOTW: Alvaro Fernandez-Maldonado, junior soccer player
Why Alvaro Fernandex Maldonado was selected: Alvaro Fernandez-Maldonado found the back of the net in a 1-0 upset against Eastern. Alvaro netted the game's lone goal in the second overtime and Eastern was ranked as the No. 8 team in the United Soccer Coaches Mid-Atlantic Region. Also, it was his first goal of the season, as well as the first of his career. Congratulations, Alvaro.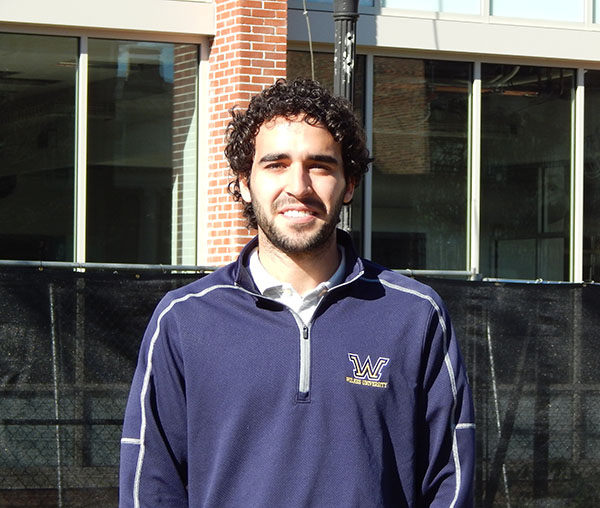 What head coach Michael Piranian said: "Alvaro has made great deal of progress since the start of our season back in mid-August.  It was a slow start for Alvaro as we opened up with a fitness test that did not go well for him.  However, he has worked hard on and off the field to grow into an integral part of our team.  I am happy for him and the part he played in the game-winning goal against Eastern. I hope there are more highlights to come though.
Name: Alvaro Fernandez Maldonado
Year: Junior
Major: Nursing
Hometown: Xalapa, Mexico
High School: Scranton HS
Position: Holding Mid-fielder
Driving force for your decision to come to Wilkes?
I came to Wilkes because I knew the nursing program is good. It also gave me the chance to be in a good nursing program while being part of the soccer team.
Post graduation plans in terms of a career?
Work at an ICU (intensive care unit) and go to graduate school after a few years.
Favorite building on campus?
Michelini hall is my favorite building on campus because that's where I lived my first year at Wilkes.
What came first? The chicken or the egg?
The chicken.
Coke or Pepsi?
Coke, but I wouldn't turn down a free Pepsi.
When/Why did you first begin playing?
I started playing in Mexico when I was about 7 years old. I decided to play soccer because that's the most popular sport in Mexico and all my friends played as well.
Other interests or hobbies off of the field?
Cooking, eating, watching GOT, watching tarzan, swimming, and playing ping pong (professionally).
Most influential person in your life?
Both of my parents are probably the most influential people in my life.
A quote you live your life by?
If it's suppose to happen it'll happen, so don't stress, just do your best.
What does "Be Colonel" mean to you?
It means being part of a team
Hopes for this season as a Colonel?
To improve our record from last year.
Favorite meal to eat on campus?
It's not a meal but the pumpkin rolls are by far the best food on campus.
Favorite professor?
Dr. Harrington
Anyone to give a shout-out to?
Shout-out to the sidewalks for keeping me out of the streets. Shout-out to the entire team. This should have been a team of the week instead of athlete of the week.