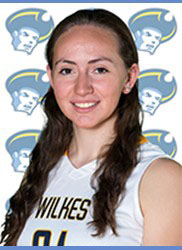 Courtesy of gowilkesu.com
For Sarah O'Hara, she competes on the women's basketball team, fighting for every victory. But on Feb. 3, she scored a victory off the court by being elected as President of the Middle Atlantic Conference Student-Athlete Advisory Committee for the 2017-18 academic year.
She was able to defeat her two opponents, one hailing from Eastern University and the other from well, the school on the north side of Wilkes-Barre.
According to a press release on GoWilkesU.com, the official website of Wilkes University Athletics, O'Hara will take over for current SAAC President, Eastern's Nick Jinks.
O'Hara plans to focus her term on the importance of community service among MAC athletes.
""
"I know we sponsor some of the same things in each individual SAAC, but I think coming together on the same day, and perhaps in the same location when possible, would be a great way to promote the MAC in a positive way."
Although there is fierce competition on their respective playing fields, O'Hara said he goal is to bring the conference together during these activities.
"We may compete against each other, but at the end of the day, we're all student-athletes. We just wear different colors."
""
Head Soccer Coach John Sumoski, who serves as the advisor to the local Wilkes SAAC, said that his goal is to let the leadership handle most items and only intervene when necessary. For the most part, he said this group has been one of the best during his time as the advisor.
"Sarah has been outstanding with our local group her and I can only imagine she will do well at the conference level," Sumoski said.
Some of the Wilkes SAAC's projects include: Project Standing Room only (Wilkes vs. King's Basketball), Girls in Sport clinics and a faculty appreciation luncheon.
After graduation, O'Hara plans to continue her education and pursue a career as a high school history teacher. When there, she hopes to inspire her students to take on more leadership roles and become future leaders in America.
"I think that holding this leadership position will be great to transfer into the classroom," O'Hara said. "(I) will also try to use my experiences to teach leadership and instill those ideas in my future students."