Parfianowicz twins return to the pool for Wilkes swimming
For Dominic and Jacob Parfianowicz, choosing one sport to play was extremely difficult. Getting to eventually play both favorite sports was special.
The Parfianowicz twins had always participated in tennis and swimming for most of their lives. When it came time to look at collegiate athletics, they had a decision to make.
They were originally recruited to Wilkes University by tennis coach Chris Leicht, since Wilkes did not offer swimming just yet.
The duo began playing tennis after their fourth grade physical education teacher suggested the idea.
The addition of the swimming program in the 2014-15 academic year peaked the twins' interest, as swimming was their first love at seven years old. The pair would decide to give it a go and came out the the Wilkes swimming program.
They dove into the pool and shattered a few records, but would decide to give it up and concentrate on the tennis side of things.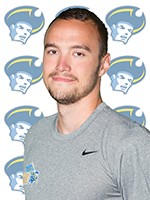 Now seniors, Dominic and Jacob decided to return to one of their roots at Wilkes, swimming for the Colonels.
"When they asked if they could come back, I was surprised in a good way. For starters, we were missing a key backstroker," said Coach Barnes.
"Boosting the [roster size] is a huge help to our program."
The roster now totals at 17 swimmers, topping last year's total of 12.
The return to the pool would not be easy as most people woud think.
"Being in shape out of the water is completely different than being in shape in the water," Dominic said.
Both Dominic and Jacob hope to return to their peak swim shape as soon as possible.
Being seniors, they also hope to present themselves as role models as well.
"We are looking to help the younger swimmers, especially getting them prepared for next year and beyond," Dominic said.
"We are looking to be great mentors and break some records while we are at it," Jacob said.
With regard to team records, they hope to make a name for themselves by the end of the season.
"We are hoping to get our names back on the  (record) board," Jacob said.
Lastly, Coach Barnes hopes to have them contribute in a bigger way.
"We hope to have them help us build a winning streak," said Wilkes swimming head coach Mark Barnes.
The Colonels have strung together back-to-back wins this season. This past Saturday, the Parfinowicz twins were key in splashing past Stevenson University, a Middle Atlantic Conference opponent, for their first conference win of the season.
Against Stevenson, Dominic scored a second place finish in the 50-meter freestyle in his first action of the season. His time was 23.91.
Dominic would also take first in the 100-meter backstroke in 1:00.52, just tenths shy of breaking the record he set in 2014 as a sophomore. That record stands at 59.19.
Jacob, also put points on the board for the Colonels securing a third place finish in the 50-meter freestyle with a time of 24.04.
The twins, along with the Colonel swimming team, return to action against Lebanon Valley College on Nov. 5 in a pivotal conference meet at the Catholic Youth Center in Wilkes-Barre, beginning at 1 p.m.