Off-season is no time off for these Colonels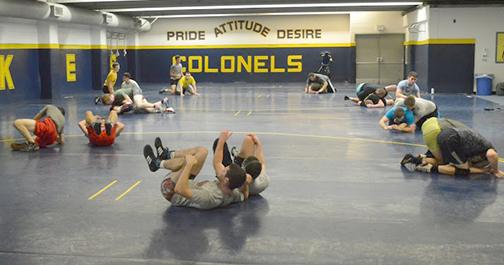 Cold football games are a reminder that winter is around the corner. All of the fall sports are in full swing, but there are still winter sports teams preparing for their season.
The men's wrestling, basketball and women's basketball teams' seasons are slowly beginning. These teams have been staying fit and doing team activities.
"We have been working harder, doing more, and looking better this year," said James Palys, a sophomore 157-pound wrestler.
He continued about his routine stating that the wrestlers have been doing various activities such as being assigned lifting routines in the gym and wrestling practices. The wrestling team also has high-paced sprinting and lifting routines in the large and open green room.
The men's basketball team has been waking up before many others, getting to practice at 6 a.m. to run, do basketball drills and play pick-up games followed by lifting weights.
Freshman forward Tommy Bowen has started this routine.
"The workouts were pretty tough at first, but once I got into the swing of things, everything got easier," he said.
Bowen has struggled, but he has pushed past it. He did not lift as much as he does now when he was in high school.
"The biggest transition I had to deal with was the whole lifting part of the college level. I was never forced to lift or had a lifting program in high school so lifting is way different for me," Bowen said.
Catey McFadden is a sophomore women's basketball player. She has been participating in all the off-season activities so far.
"We have conditioning and lifting three days a week and we play pick-up at least twice a week," McFadden said. "We also do team bonding activities."
She thinks the preseason has been busy, but fun. Even though the team is not in season yet, everyone shows up ready to work hard. She notices how excited everyone really is.
"A major difference from last year is that we don't have as young of a team. Last year, we had six freshman, and now we have two, so most of us are returning players," McFadden said.
The wrestling team began practicing on  Oct. 10, while the two basketball teams start a week later on Oct. 17. 
Although all three teams won't be starting their season for another few days, they all have been working hard these past two months to attempt to accomplish their goals of reaching the playoffs and ultimately winning a championship.
Each team will be competing in tournaments in about a month, and all of the tournaments will be hosted away.