Music in a post-Chester Bennington world
Linkin Park's main vocalist, Chester Bennington, committed suicide on July 20, 2017. Also on this date was Soundgarden's vocalist Chris Cornell's 53rd birthday, who was close friends with Bennington and who also committed suicide the same way about two months prior to Bennington.
There are no definitive reasons why he took his life, but his anger and sadness has consumed his music from the beginning. Albums like Hybrid Theory, Meteora, Minutes to Midnight and A Thousand Suns were full of these emotions. However, I listened to these albums religiously about a decade ago and was too young to understand the intensity of his lyrics.
In a post-Chester Bennington world, Linkin Park's new album One More Light finds new meaning.
The album was released on May 19, 2017, and was mostly unpopular. One of the only popular songs was "Heavy" featuring Kiiara, which played on popular radio stations. People criticized the album for being too mainstream, but I believe that this is their best album to date.
I will go through all 10 songs off of the album, discuss my favorite lyrics and explain why I like each song.
Nobody Can Save Me
"I'm chasing out the darkness, inside. And I don't want to let you down, but only I can save me. I've been searching somewhere out there for what's been missing right here." Personally this is my favorite song on the album because of how clear the message is. These lyrics best describe how he was feeling at this point in his life. This song has mostly a rock song resemblance, but still includes some intricate beats.
Halfway Right
"All you said to do was slow down, but I was already gone. I scream at myself when there's nobody else to fight." This is an interesting song, and these are the lyrics to the chorus. His verses are slow and it tells a short story that ends with, "then I woke up driving my car." This song is difficult to understand, but there is a lot of meaning to it. The contrast in the powerful chorus followed by a choir gives the song a nostalgic feeling.
Sharp Edges
"Should've played it safer from the start. I loved you like a house of cards, then let it fall apart. All of the things I couldn't understand, never could have planned, they made who I am." Here's another song that when taken literally is about death and despair. It has a light beat to it, and a very catchy chorus. Towards the end of the song, he begins to sing, "We all fall down, we live somehow, we learn what doesn't kill us makes us stronger." This is another favorite.
Sorry For Now – "Best things come to those who wait, and it's bound to get rough on any road you take. But don't you ever have a doubt and make no mistake, I can't wait to come back when I'm going away." This song is different than most Linkin Park's music. Linkin Park's other vocalist, Mike Shinoda, sings on this song instead of his usual rapping, and these quotes come from last verse from Bennington. Shinoda's voice on the chorus and the computerized beat drops are worth listening to.
Battle Symphony – "If I fall, get knocked down, I'll pick myself up off the ground." This song is very catchy and Bennington sings the chorus beautifully. These lyrics are repeated as a verse at the end of the song, and relates to his life again. Most people can relate to it. Also, there is this computerized turn-table like sound on the intro and outro that is just awesome.
Invisible – "I was not mad at you. I was not trying to tear you down. The words that I could've used, I was too scared to say out loud. If I cannot break your fall, I'll pick you up right off the ground. If you felt invisible, I won't let you feel that now." The message is direct. This was sung by Shinoda, and is very relatable. It is a lot like Sorry For Now, and has more of rock-type beat drops rather than a computerized beat drop. Overall, this song has great meaning and musical appeal.
Talking To Myself – "And the truth is: you turned into someone else. You keep running like the sky is falling. I could whisper, I can yell but I know that I'm just talking to myself." This song is the closest to Linkin Park's old music. It is definitely a rock song, and captures the old anger that Bennington used to express in his old hard rock songs. Talking To Myself is a bit of an earworm.
One More Light – "Who cares if one more light goes out in the sky of million stars? It flickers, flickers. Who cares if someone's time runs out, if a moment is all we are. We're quicker, quicker. Who cares if one more light goes out? Well, I do." Bennington dedicated a performance of this song to Chris Cornell, which is a sign that his death really affected him. This song is slow with a lot of depth in the lyrics. A light guitar solo at the end completes the mood of the song, and that compliments Bennington's voice.
Heavy – "I'm holding on, why is everything so heavy? Holding on, to so much more than I can carry. I keep dragging around what's bringing me down, if I just let go I'd be set free." This is clearly the most popular song on the album. There is a slight pop and rock feel to the song, and a Kiiara high voice in contrast to Bennington's makes for a great duet. I enjoy the energy from both artists who both have powerful voices.
Good Goodbye – "Say goodbye and hit the road. Pack it up and disappear. You better have some place to go, because you can't come back around here. Good goodbye." This song seems like it doesn't belong on this album. Bennington sings these lyrics for the chorus in his normal way but then Shinoda, Pusha T and Stormzy each have a verse that they rap. It is interesting to listen to them delve into different genres.
        The problem with Linkin Park's new album is that people were unaware of its existence. Bennington's death made national news and suddenly people started to listen to their music again. Linkin Park and Bennington meant so much to me that his death inspired me to enjoy his music again in a way that I could not before. I would recommend anyone who has ever enjoyed a Linkin Park song to listen to this album. Kory Grow who wrote, Chester Bennigton's Last Days: Linkin Park Singer's Mix of Hope, Heaviness in the Rolling Stone put into context:
        "Bennington's death is still resonating among his fans, who experienced a shock wave when the news reached the public. The National Suicide Prevention Lifeline says it received a 14 percent spike in calls on the day after the news broke."
About the Writer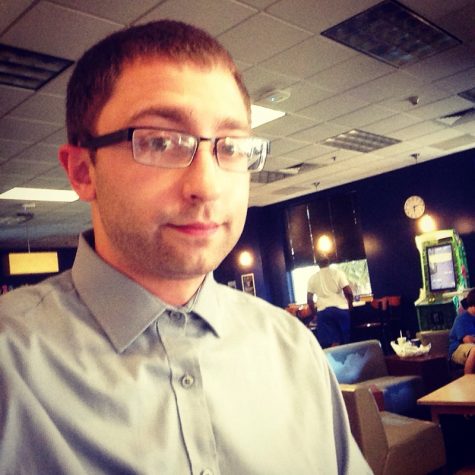 Danny Van Brunt, Managing Editor
Danny Van Brunt is a senior communication studies major with concentrations in broadcast production and multimedia journalism. He also has a minor in marketing.

Danny...