The self-help saga
HOW TO BEAT THE START-OF-SEMESTER SLUMP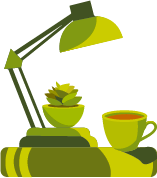 Having a three week homeworkless, examless and classless break is enough to put anyone into a slump at the beginning of the semester. Combined with the cold and dark weather, it is a recipe for disaster. 
Jumping into the semester with little motivation is a daunting task. Here is how to gain back that motivation and take the semester by storm! 
How to find the motivation to wake up early in the morning: 
If there is anything I have fallen victim to during the start-of-semester slump, it is trying to wake up early before my classes. Luckily, my classes do not begin super early, however, I do have work study on Tuesdays from 9:30 a.m. until 10:30 a.m. and I would be lying if I said that waking up for it is not a challenge for me. 
I never once considered myself to be a morning person but I have found that there are ways to make waking up in the morning easier and not feel as much of a hassle. 
First, I start this routine the night before I know I have to wake up early. Normally around 11 p.m. I will set an alarm for an hour before class and then, at the latest, I will set an alarm for 45 minutes before class. This ensures my body has time to wake up in the morning before class starts.
Personally, I am the kind of person who showers at night in order to save time in the morning so when I wake up I immediately wash my face to feel refreshed. I then follow through with a skincare routine, get changed into clothes that I picked out the night before and eat a healthy breakfast. 
A fun tip to start the morning off right is to drink lemon water before eating because it promotes and improves digestion, as well as reduces heartburn and constipation.  
The thing that changed my life the most to wake up in the morning feeling refreshed was using an online "sleep calculator," which ensures that one does not fall asleep in the middle of a sleep cycle. These sleep calculators allow the person to choose their age, what time they want to go to sleep and then it provides the four best times to fall asleep.
How to find time to eat and stay hydrated during the day with a busy schedule:
Consistently eating and staying hydrated throughout the day is a hard task, I will admit. When classes are stacked on top of each other for hours on end it can feel absolutely impossible to take time to assess what our bodies need. 
To start, taking a weekly grocery run to see what snacks and quick lunches can be brought to class is key. Weekly grocery trips can also be cheaper in the long run to avoid "buying in bulk." 
It is important to have a proper breakfast whenever there is a good period for a student to be able to eat. Normally, my go-to's are bagels, cereal, toast, waffles, fruit and yogurt. 
Then, try to pack a simple lunch to eat between classes, such as a sandwich and chips. Lastly, throw at least three snacks in a bag like granola bars, chips, crackers, etc.
Investing in a good water bottle that will keep drinks cold is a must for days like these. I always fill my bottle with lemon water and refill it throughout the day at refill stations around campus. If a pick-me-up is needed, however, never feel ashamed to make a quick stop at Starbucks to get a caffeine fix. 
How to create a space of one's own away from the classroom: 
The easiest way to relax and find motivation is to have a space to recharge. Whether a student lives on or off campus, creating a space that they can call their own is an easy task that can be done. 
Even though I live off campus, I found that the easiest way to get through college while living on campus was to have a space that really felt like my own. Unpacking and decorating my room the very first two weeks I moved in made getting back into the swing of things much easier. 
The key to having a space feel homey is to bring items and decorations from home. Going back to a dorm or an apartment that is messy and has things thrown creates a lack of motivation and a distaste for the dorm or apartment. 
Ensure that this space can be an escape when the semester feels overwhelming or formidable. It makes relaxing, reenergizing, studying and doing work easier and much more enjoyable. 
Weekly book and song recommendations for the start of the semester slump: 
There are plenty of songs and books out there that can spark motivation and inspiration. I am a huge reader so prepare for lots of book recommendations. With that, I am also a huge Swiftie so prepare for lots of Taylor Swift song recommendations. 
My first book recommendation for the start of the semester slump is "Normal People" by Sally Rooney. It is about two teenagers' secret friendship and on-and-off-again relationship; it is a story about people who drift apart but always seem to come back to one another. 
"Clean" by Taylor Swift is my first song recommendation for everyone to get through the tough weeks ahead. Although "Clean" is about feeling free from a relationship, the song can have universal meanings of freedom to anyone who listens to it. The song represents new beginnings, which is a perfect way to start the semester.